< Back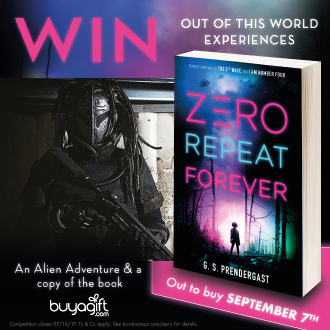 Zero Repeat Forever
Fast-paced, heart-stopping, and utterly gripping - prepare for ZERO REPEAT FOREVER to invade your lives!
Out to buy 7th September.
He has no voice or name, only a rank, Eighth. He doesn't know the details of the mission, only the directives that hum in his mind:
Dart the humans. Leave them where they fall.
His job is to protect his Offside. Let her do the shooting.
Until a human kills her…
Sixteen-year-old Raven is at summer camp when the terrifying armored Nahx invade. Isolated in the wilderness, Raven and her fellow campers can only stay put. Await rescue. Raven doesn't like feeling helpless, but what choice does she have?
Then a Nahx kills her boyfriend.
Thrown together in a violent, unfamiliar world, Eighth and Raven should feel only hate and fear. But when Raven is injured, and Eighth deserts his unit, their survival comes to depend on trusting each other…
Available at Waterstones - buy the book now.
To celebrate Zero Repeat Forever's release, we're giving one lucky winner the chance to WIN a copy of the book and an Alien Adrenaline experience from buyagift.com for you and a friend so you too can fight for survival against the aliens. Three runner ups will win a copy of the book.
Enter your details below for a chance to win!
---
This competition is now closed.