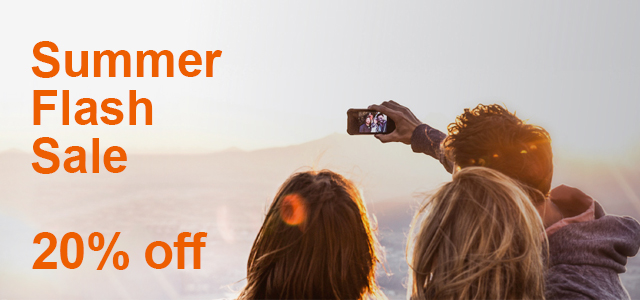 Buy a 1-Year 16-25 Railcard for only £24 instead of £30!

To get 20% Off simply enter promotional code SUMMER17 when you buy your Railcard online to get this great discount.

This Summer a Railcard can help you save on rail journeys during the holidays. Whether you're visiting friends and family or planning a Summer break, a Railcard will save you 1/3 on rail fares to do all the things you love.

This offer is only available online when purchasing a 1-year Railcard and is not available in stations. Offer available from 24 - 30 July 2017. Terms and conditions apply - see below.

Sale starts at midnight on 24 July.
---
Terms and conditions
1. 20% off a 1-year 16-25 Railcard is available online only using the promotional code SUMMER17 and expires 23.59hrs 30 July 2017.
2.The offer is not available at stations or other retail outlets.
3. Railcard is to be carried on all journeys and used when purchasing discounted tickets.
4.The Railcard and train travel are subject to the National Rail Conditions of Carriage
16-25 Railcard Terms & Conditions
1. The offer is available to those aged between 16 and 25 years of age or mature students in full-time study . You will be required to provide details of your valid passport or UK driving license as proof of age.
2. A minimum fare applies for all journeys made at or before 10am Monday to Friday. If you travel regularly before 10am then a weekly or monthly season ticket may be more appropriate (Railcard discount will not apply). However there is no minimum fare in July or August, on Public Holidays, and at weekends.
3. A full set of 16-25 Railcard Terms & Conditions is available from any staffed station ticket office or at www.16-25railcard.co.uk